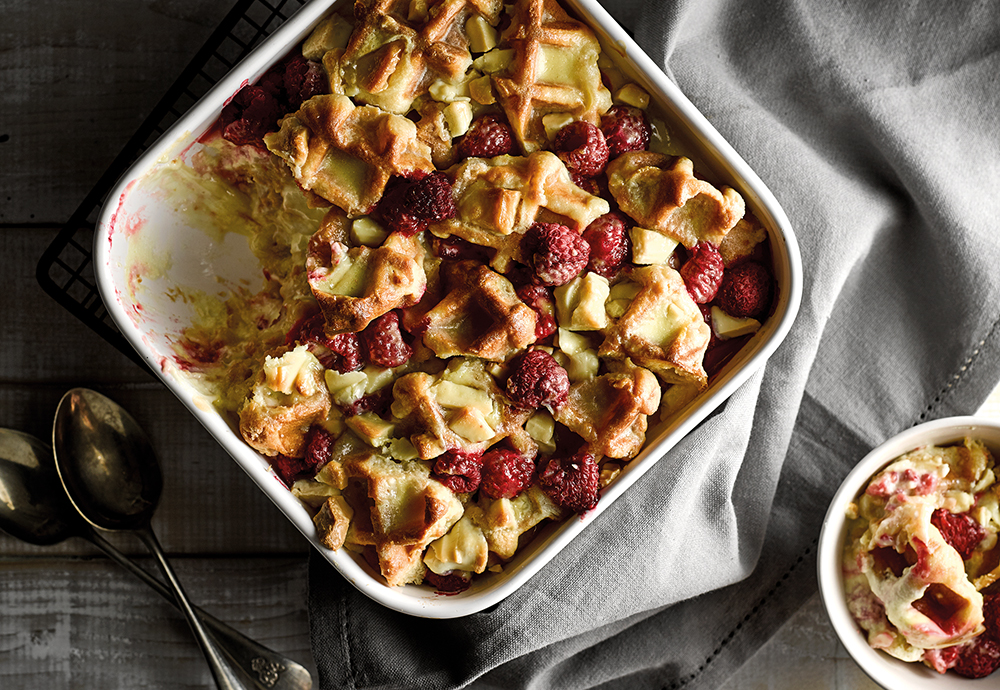 Recipe
White Chocolate & Raspberries Waffles Pudding
White Chocolate & Raspberries Waffles Pudding
A deliciously sweet and indulgent dessert
Find a different way to serve up your waffles and create this delicious dessert with white chocolate and raspberries.
Ingredients
6 St Pierre Brioche Waffles with butter
10 oz raspberries
5 oz white chocolate
16 fl oz crème fraiche
2 oz superfine sugar
1 tbsp plain flour
¼ tsp vanilla extract
3 eggs
Confectioner's sugar
Method
Preheat the oven to 400°F
Grease an ovenproof dish
Beat the eggs together and add the vanilla extract
In a separate bowl, mix the sugar, flour and crème fraiche
Slowly add the eggs to the crème fraiche mixture
Cut the waffles into 1 inch squares, and scatter half on the bottom of the ovenproof dish
Break the white chocolate into small ½" chunks, and layer half over the waffles.
Scatter half the raspberries over the waffles and chocolate
Top with the remaining waffle pieces, and then layer again with the rest of the white chocolate and raspberries
Pour the crème fraiche mixture over all the waffles
Bake in the center of the oven for 25-30 minutes
Remove from the oven, and dust with confectioner's sugar
Allow to cool slightly and serve with cream or vanilla ice cream
Bon appétit!
6 Brioche Waffles With Butter
The sweetness of a Belgian waffle meets the richness of fluffy brioche in our St Pierre Brioche Waffles. Sweet and satisfying, each waffle is individually wrapped for the freshest taste and studded with pearl sugar for an extra indulgent crunch.
They're a decadent treat for a moment to yourself, for breakfast, as a sweet snack or as a dessert after a long day.
View product
Where to buy