Blog
Brioche Holiday Star
Add a touch of Parisian flare with St Pierre this holiday season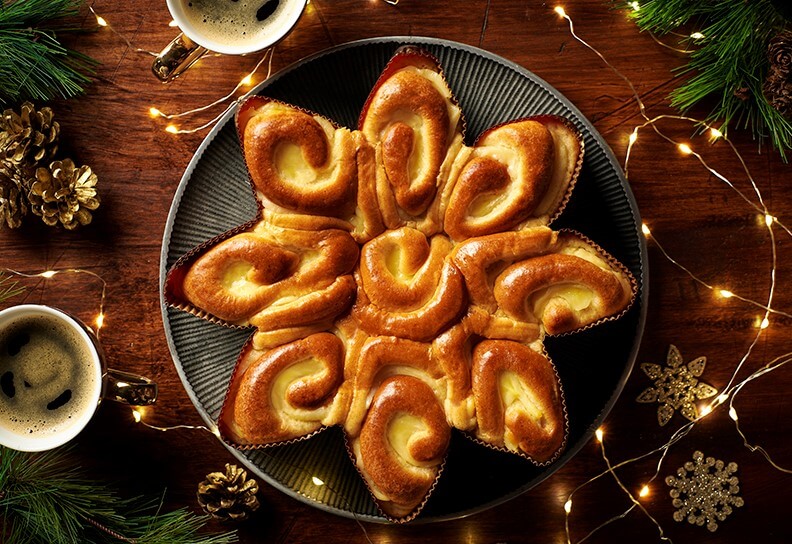 This Holiday season, find our limited-edition Brioche Tear and Share Star, available exclusively at Kroger. It's a festive spin on our classic tear and share and is as versatile as it is delicious.
A festive treat made with our signature light and soft brioche and sweet swirls of vanilla custard, it's a treat for the whole family. Whether you enjoy it around some hot chocolate with your loved ones, or turn it into a showstopper, our Holiday Star can do it all.
It is truly a feast for all your senses:
Taste: Lightly sweet and rich brioche swirls around creamy and decadent vanilla custard, for a sweet taste that's surprisingly light.
Touch: Bouncy and soft brioche and smooth custard, ready to be sliced, torn and enjoyed
Sight: Pale custard meets golden brioche in swirls, in a festive star shape
Aroma: Sweet, rich and satisfying on its own, and a delicious canvas for your holiday creations.
If you're feeling creative this holiday season, try your hand at our recipe for raspberry and cream brioche. Made with thick and decadent cream and fresh raspberries, it's Christmas colored and a sweet treat for the whole family, with almost no effort.
Find the recipe here