Inspiration
The Best Healthy School Lunch Ideas for Teens
Discover tasty and healthy school lunch ideas for teens from St Pierre Ambassador Natalya Drozhzhin using our magnifique brioche bread.
Best Healthy School Lunch Ideas for Teens
Is your teen sick of the same meal for lunch day after day? Here are our top 10 easy school lunches for teens featuring delicious St Pierre brioche bread to get you out of the rut. Expand your lunch game from sandwiches to paninis, pizza, and more! You'll never feel stuck again on what to make for your teenagers' next lunch!
What is a healthy lunch?
A healthy lunch is a meal that is both enjoyable and full of nutrients. The easiest way to determine if a lunch is healthy is to ensure that it includes foods from at least three different food groups (fruits, vegetables, grains, protein, and dairy).
Why is an exciting lunch important?
Kids are in school an average of 180 days every year, which means 180 school lunches. If you ask almost any teen, chances are they'll say "lunch is my favorite time of the school day." Lunch is where they spend catching up with friends, relaxing from the hard mental work of the school day, and nourishing their ever-growing bodies. So — why is it important to keep the meal exciting?
An exciting lunch makes for an exciting school day. It keeps the teen looking forward to a time of their day when they can have a delicious meal surrounded by friends. If your child knows there's a tasty meal waiting for them come lunchtime, they'll inevitably love coming to school every day!
@MomsDish's 10 Easy School Lunches For Teens
St Pierre brioche bread is a mouthwatering base for a multitude of lunch entrées. Whether your teens are picky eaters or not, you're guaranteed to find a favorite for everybody in this list of 10 lunch ideas for your teenagers.
Best School Lunch Sandwiches Ideas For Teens
For a simple upgrade to a regular sandwich, use a couple of slices of Brioche Loaf instead of regular sandwich bread. The soft and sweet brioche bread mildly and perfectly adds a sweet taste to any sandwich already in your repertoire.
Feel free to make your classic sandwiches with deli meat (turkey, ham or chicken breast), your favorite cheeses, and any extra veggies fillings (lettuce, tomato, onion, avocado). If you like it moister, add in a drizzle of mayo or pesto.
Best School Lunch Sliders Ideas For Teens
Some may say sliders are like sandwiches, but we think they're even better! They're essentially mini burgers — and who doesn't like burgers?! Get a pack of Brioche Slider Rolls and make a few Cheeseburger Sliders or Philly Cheesesteak Sliders.
Pulled pork and crispy chicken are also delicious meat options to put into your sliders. Your growing kids will be ready to tackle the rest of the school day after these delicious sliders!
Best School Lunch French Toast Ideas For Teens
Who said we can't have breakfast for lunch? Your teen is going to be looking forward to lunch all day when they know they have French toast in their lunch box. Round out the meal with a mix of fresh fruit plus a drizzle of maple syrup or honey.
Best School Lunch Grilled Cheese Ideas For Teens
What's better than a good ol' grilled cheese sandwich? A Brioche Grilled Cheese, of course!
Take a few slices of Brioche Loaf, apply a little extra butter on one side of both pieces and layer cheddar cheese on the inside. Grill it on a pan until the cheese is hot and melty.
Best School Lunch Pizza Ideas For Teens
Pizza lovers — this one's for you. Make individual pizzas with Brioche Burger Buns as the foundation. Then, layer on your favorite meats (pepperoni, sausage, ground beef), cheeses, and veggie toppings.
Feel free to change it up and add extra ingredients to make it your very own tailored version.
PBJ (and Variations)
The PBJ is perhaps the simplest, quickest, and easiest lunch of all time. Change it up from the regular peanut butter and grape jelly sandwich. Instead, use almond butter or cashew butter and a different flavored jelly.
Make it even fancier by hiding thin slices of strawberries or bananas inside!
Philly Cheesesteak
Make a few extra Philly Cheesesteaks for dinner this week, then keep the leftovers for lunch the next day. What teenager doesn't like thinly sliced beef, melty cheese, and deliciously sautéed peppers and mushrooms inside of Brioche Hot Dog Rolls? Yum!
Pigs in a Blanket Hot Dogs
Pigs in a blanket are the ideal party appetizer and hot dogs are a classic party food. Combine the two together and you will have a fantastic lunch for your kids.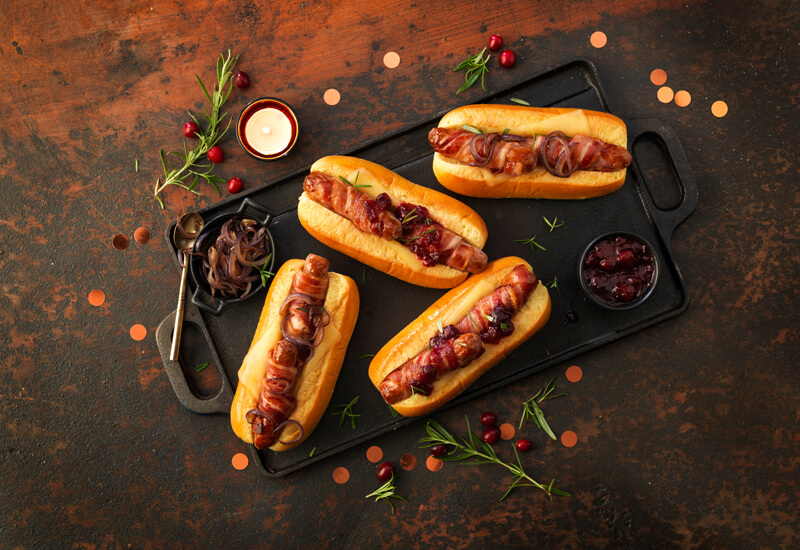 These Pigs in a Blanket Hot Dogs are made with bacon-wrapped sausages, fried onions, and tomato relish inside St Pierre Hot Dog Rolls.
Smoked Salmon Cream Cheese Bagel
This lunch is truly for special occasions — birthdays, exam days, and concert days. When your child needs an extra special boost (and smile) at lunch, make them a Smoked Salmon and Cream Cheese Bagel Sandwich. Add in an ice pack to keep it cold, and your child will have the best lunch of the whole school!
Hot tip
To keep the brioche bread from becoming overly soggy, toast it first before assembling!
What Else Should I Add To The Lunch?
The best way to finish off a healthy school lunch for a teen is to provide a variety of foods and sides. Pair the delicious brioche entrées with one to three items from the following list of side dishes.
Fruit: oranges, apples, blueberries, grapes, dried fruits
Veggies: carrots, cucumbers, celery sticks, grape tomatoes
Dairy: yogurt, Greek yogurt, cheese
Crunchy snacks: chips, granola bars, trail mix, crackers
Hummus: as a dip for pita bread or crackers
Meats: beef sticks, jerky
Nuts: peanuts, almonds, pistachios
Hot tip
As always, it is vital to include a bottled water (or your child's favorite drink) in the lunchbox to keep your teen well hydrated!
How Much Lunch Should I Pack For My Teen?
The amount of food to pack differs for each child, so no size truly fits all. Older teens typically eat more than younger children. Also, kids that are involved in sports and more active extra-curricular activities will likely need a larger lunch to keep them full and provide them with enough energy to participate well in their activities.
What Do I Put Inside The Lunchbox?
The first step to packing a lunch is to buy a high-quality lunch box. Look for a lunch box with enough space for a water bottle, a sandwich container, and a few sides. Although it may not always be needed, it is very helpful to have enough room for a small ice pack to keep the food fresh and cold.
Hot tip
Refrigerate the water bottle or juice overnight before packing the lunchbox. The drink will serve as a small ice/cooler pack!
To save time on prepping, fill the lunchbox with non-perishable items the night before. Plus, remember to pack a couple napkins, utensils, and an encouraging note to your child! They will love it!