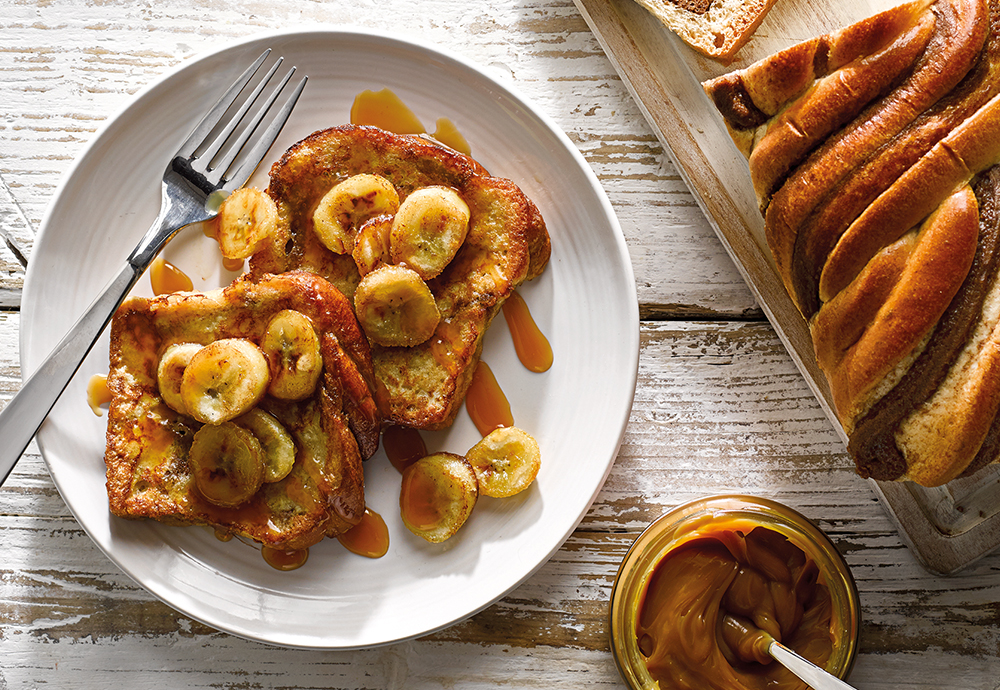 Recipe
Cinnamon Twist French Toast
Cinnamon Twist French Toast
A deliciously indulgent breakfast or brunch
A cinnamon spiced twist on the classic French Toast, drizzled in toffee sauce and topped with bananas for an indulgent breakfast treat.
Ingredients
2 slices of St Pierre Cinnamon Brioche Twist
1 egg
1.4 fl oz milk
1 banana
1 tbsp superfine sugar
Toffee sauce
Butter
Method
Whisk the milk and egg together in a mixing bowl
Place the mixture in a shallow dish, wide enough to dip the brioche in
Dip both sides of cinnamon brioche twist slice in the mixture
Melt some butter in a frying pan
Add the slices to the pan, gently frying both sides until golden brown
Cut the banana into slices, and sprinkle with sugar
Fry the banana slices until golden brown and caramelized
Add the fried banana slices on top of the cinnamon twist French toast, and drizzle with toffee sauce
Bon appétit!
Brioche Cinnamon Twist
Soft, sweet, golden brioche meets twists of aromatic cinnamon. Combining the lightness of brioche with the rich and sweet flavor of cinnamon, our cinnamon twist is an ideal snack for a sweet moment to yourself, a joy to share, and makes for a flavorful addition to any recipe.
Its feather-light texture makes it perfect even sliced and toasted.
View product
Where to buy