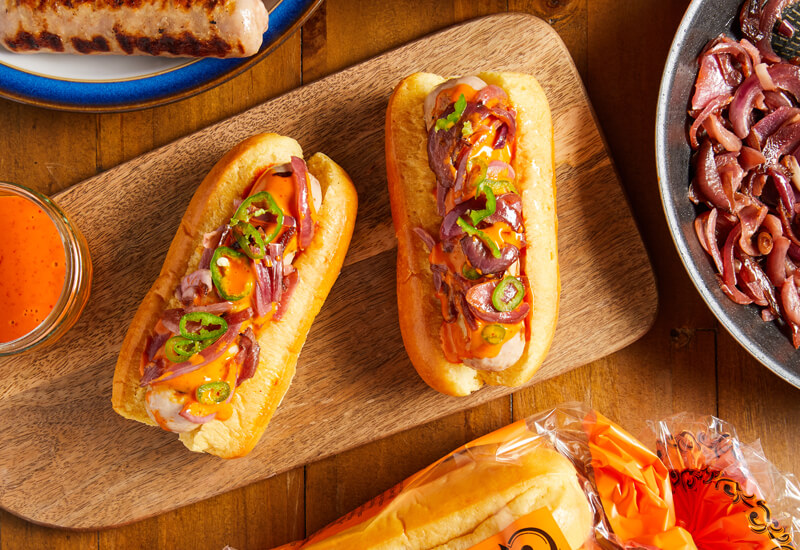 Recipe
Halloween Hot Dogs With A Hot 'n' Fiery Sauce
Halloween Hot Dogs With A Hot 'n' Fiery Sauce
Add a spicy kick to your Halloween dinner with this scarily good hot dog recipe from St Pierre.
Ingredients
For the sauce:
4 tomatoes
1 onion
1 cup of vegetable oil
4 cloves of garlic
1 of red chilli, finely chopped
75ml cup of apple cider vinegar
120ml cup of water
A big pinch of salt
For the hot dogs:
6 large sausages
6 pack of St Pierre Brioche Hot Dog Rolls
1 onion
1 fresh green chilli
Method
Heat up the grill to a medium heat.
Cook your sausages under the grill until golden on the outside and piping hot all the way through.
Whilst your sausages are cooking, make a start on your fiery sauce by roasting slices of onion and tomatoes until a little charred around the edges. Use both of your onions and save half the roasted onions for your sauce and half to layer on top of your hot dogs once cooked.
In a small pan, cook the garlic cloves and chilli in the vegetable oil over a medium heat for a couple of minutes. Set aside to cool for five minutes.
Pop the chillies and garlic in a blender, then pour in the water and vinegar. Blitz it all together until the mixture is smooth.
Add the tomatoes, onion and salt to the blender and continue to blitz.
Make your hot dogs by adding the cooked sausages into your St Pierre Brioche Hot Dog Rolls, layer on your saved roasted onions and drop on a couple of fresh chilli slices for that extra fiery kick.
Drizzle your orange sauce on top of your hot dogs and enjoy!
6 Brioche Hot Dog Rolls
Top-split, golden and plump brioche bread rolls, ideal for your favorite hot dog. Perfectly matched to all the ingredients you love, it's great with any sauces or condiments – so why not try with camembert and dijonnaise?
View product
Where to buy