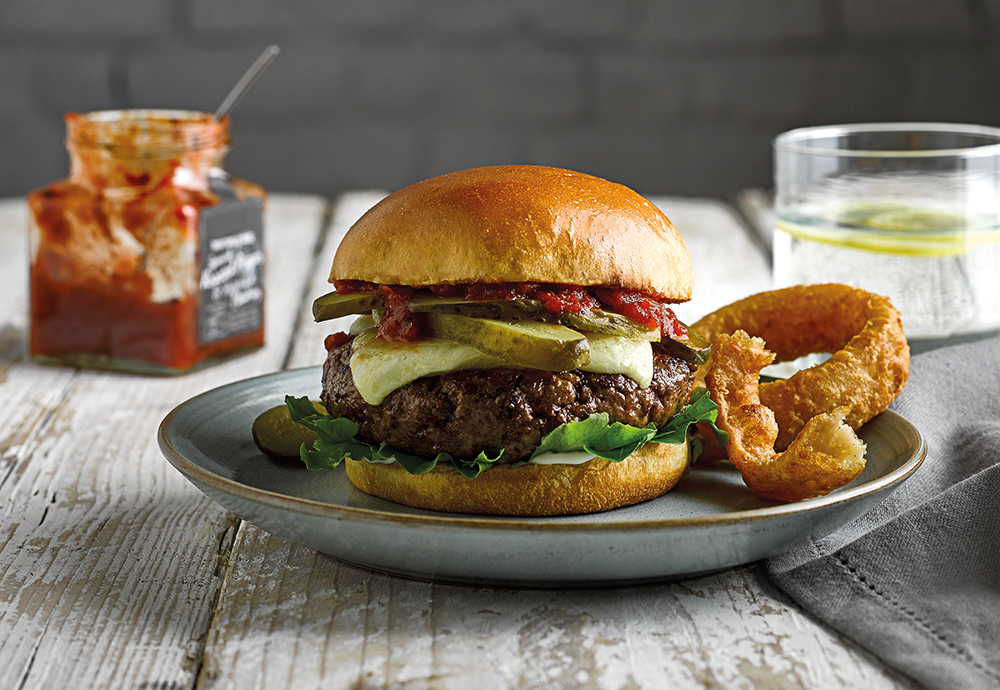 Recipe
Loaded Brioche Burger
Loaded Brioche Burger
A classic, fully loaded burger with a sweet brioche twist
Add a French twist to your classic burger by combining all your favorite flavors of a typical loaded burger, with the sweet taste of brioche.
Ingredients
1 St Pierre Brioche Burger Bun
1 beef burger
Cheese slices
Pickled gherkins
Onion rings
Lettuce
Method
Broil the beef burger to your liking
Add a slice of cheese to melt on top of the burger
Lightly broil the brioche burger bun
Add the lettuce and tomato to the bottom of the brioche burger bun (and an extra slice of cheese if you're feeling indulgent)
Place the burger and melted cheese on top
Add the pickles and the onion rings
Squeeze your favorite sauce – tomato ketchup, burger, BBQ – over the top
Enjoy. Bon appétit!
4 Brioche Burger Buns
Because your burger deserves the best. Our Brioche Burger Buns are pre-sliced and deliciously soft, ready to be filled with your favorite burger and toppings. A perfectly golden and plump texture holds your fillings together for a satisfying bite every time. Our brioche is lightly sweet, and the shiny glaze on top of each bun makes every bite magnifique. We also make packs of 6 Brioche Burger Buns.
View product
Where to buy
6 Brioche Burger Buns
Pre-sliced, deliciously soft brioche buns, ready to be filled with your favorite burger. Our brioche burger buns are made for you to take your time. Golden like a Parisian sunset, plump texture to perfectly hold your filling together and a shiny glaze on top, this lightly sweet brioche bun tastes great with every type of ingredient. Add some French mustard to yours to take your meals to Paris.
View product
Where to buy