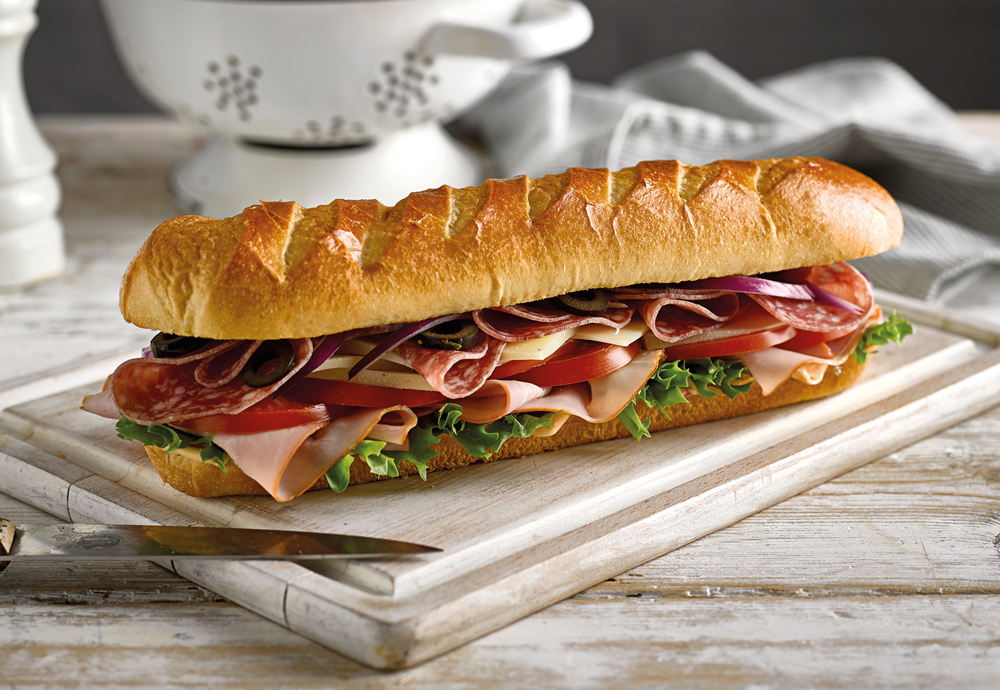 Recipe
Loaded Deli Sandwich
Loaded Deli Sandwich
Create your own sandwich for a delicious lunch
Create your own loaded deli sandwich with your favourite sliced cheeses and sliced meats to make a delicious lunch, just the way you like it.
Ingredients
1 St Pierre Brioche Baguette
Sliced cheese
Sliced meats
Salad
Tomatoes
Red Onions
Method
Open up the brioche baguette and spread with butter
Add your favorite sliced meats and sliced cheeses
Choose the salad toppings you'd like
Close the baguette, slice in half and enjoy
Bon appétit!
4 Brioche Sub Rolls
Easy to use with any of your favorite fillings, our soft Brioche Sub Rolls are ideal any time of day. An easy breakfast, lunch or even as part of a dessert, find them in your local grocery store.
Four large Sub Rolls – each pre-cut at the side for easy filling. It combines two of France's most delicious inventions, the brioche and the baguette. With a deliciously soft texture, a gently sweet flavor and a golden finish, these Brioche Sub Rolls are a European staple. Perfectly suited for warm or cold fillings, and sweet or savory meal ideas, all you have to do is choose your favorite.
Let your creativity run free or keep it simple, either way, it will be a meal to remember.
View product
Where to buy