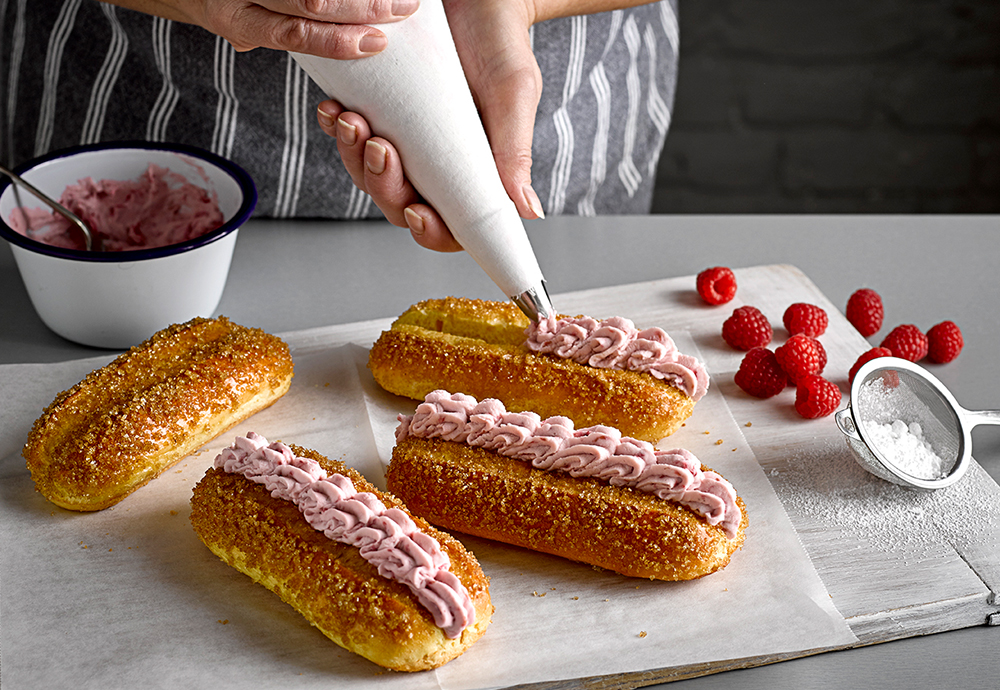 Recipe
Raspberry Mascarpone Rolls
Raspberry Mascarpone Rolls
A sweet dessert or a delicious afternoon snack
Use our St Pierre Hot Dog Rolls for something sweet and create these delicious Raspberry Mascarpone Rolls. With the sweetness of brioche and the tanginess of the raspberries coming together to make a sweet dessert or delicious afternoon snack.
Ingredients
6 St Pierre Hot Dog Rolls
7 oz fresh raspberries
9 oz mascarpone cheese
2 tbsp confectioner's sugar
1 egg, beaten
6 tbsp demerara sugar
Method
Pre-heat the oven to 400°F
Brush the brioche hot dog rolls with beaten egg
Dip each roll in the demerara sugar to lightly cover the top surface
Bake the rolls in the oven for 4 to 5 minutes until the sugar has formed a golden crust
Whilst baking, mix the raspberries, mascarpone and confectioner's sugar together until fully blended
Remove the rolls from the oven and allow to cool
Pull apart where each roll is pre-sliced, and fill with the raspberry mascarpone
Serve and enjoy
6 Brioche Hot Dog Rolls
Top-split, golden and plump brioche bread rolls, ideal for your favorite hot dog. Perfectly matched to all the ingredients you love, it's great with any sauces or condiments – so why not try with camembert and dijonnaise?
View product
Where to buy