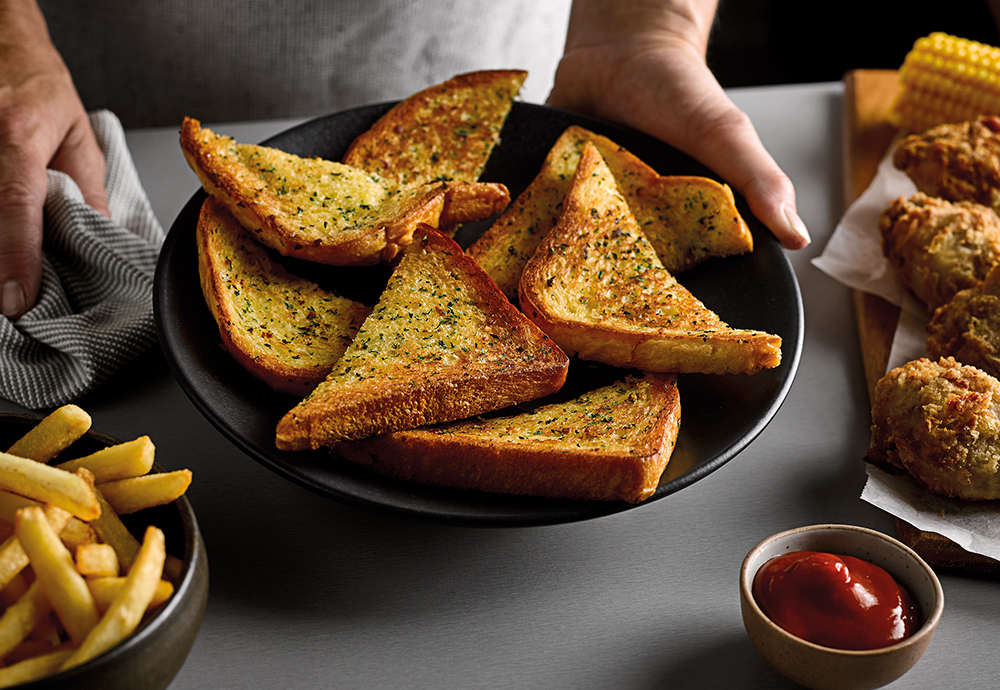 Recipe
Brioche Texas Toast
Brioche Texas Toast
A luxurious, delicious take on the classic Texas Toast recipe.
An easy side dish recipe made with easy to find grocery store ingredients. This delicious crispy recipe is a great accompaniment for any meal, or a snack in its own right. The Texas Toast with a St Pierre twist features toasted Brioche Loaf spread with butter, garlic and parsley.
Whether you serve it up alongside your favorite dishes or whip it up for the perfect hunger-busting snack, this brioche Texas Toast is always a crowd-pleaser.
Brioche Texas Toast
There's nothing quite like Texas Toast. Thickly sliced bread, buttered on both sides and gently grilled or fried for the ideal crunch in every bite. Our recipe uses our signature Brioche Loaf, which is golden and soft for an indulgent taste. It's toast, but better – think of it as an upgraded version of garlic bread.
You don't need to be in Texas itself to enjoy this delicacy – it goes with just about everything and is exceedingly simple to whip up with our brioche products. Texas Toast is a popular side dish to go along with many meals – try it when you're next out grilling, or alongside your favorite dips and toppings on football game day.
Ingredients
4 St Pierre Brioche Loaf slices
2 oz softened butter
1 or 2 cloves of garlic
¼ tsp dried parsley
Salt and pepper to taste
Method
Crush the garlic cloves
Add to a mixing bowl with the softened stick of butter, parsley and a pinch of salt and pepper
Mix all the ingredients together to combine
Spread the mixture thickly over a slice of brioche loaf, covering both sides
Fry gently in a hot frying pan, or alternatively broil, turning over regularly, until golden brown in color and crispy in texture
Bon appétit!
Brioche Loaf
Pre-sliced, utterly decadent and completely delicious, our sliced Brioche Loaf will make the ideal addition to your table. With a lightly sweet taste, delicate texture and irresistible richness, St Pierre's Brioche Loaf is delicious as is  or simply toasted as a snack, and as an addition to any meal.
View product
Where to buy