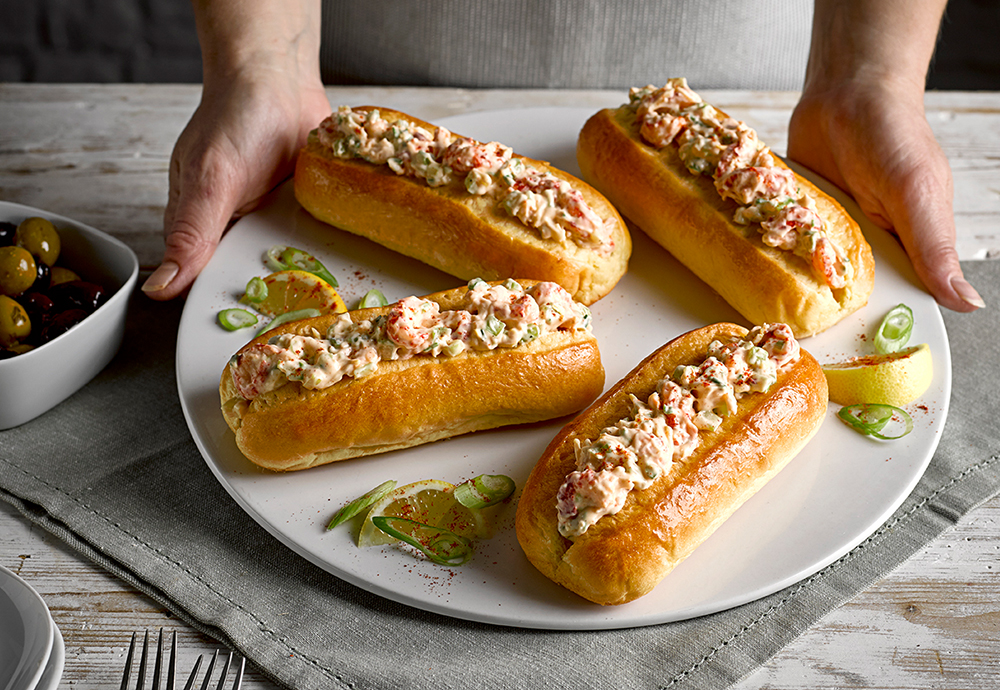 Recipe
Crawfish Cocktail Roll
Crawfish Cocktail Roll
A seafood delicacy with a sweet European twist
Ingredients
4 St Pierre Brioche Hot Dog Rolls
5 oz crawfish
6 oz lemon mayonnaise
1.2 oz finely chopped celery
1 oz finely chopped scallion
½ tsp black pepper
1 tsp fresh chives of dill
1 tsp cayenne pepper (optional)
Method
Preheat the oven to 400°F
Warm the hot dog rolls for 2 to 3 minutes
Add the lemon mayonnaise, crawfish, celery, scallion, herbs and spices into a large mixing bowl
Mix together until evenly blended
Remove the rolls from the oven and allow to cool slightly
Pull each roll apart where they are pre-sliced
Fill generously with the crawfish cocktail
Serve and enjoy
Bon appétit!
6 Brioche Hot Dog Rolls
For the simple pleasures in life. Our Brioche Hot Dog Rolls are top-split so you can instantly enjoy your favorite hot dog. Our rolls are golden, soft and beautifully plump to hold all your favorite toppings. They're easy to match with all the ingredients you love for your hot dogs. So whether you want to keep it simple with a drizzle of ketchup and mustard, or indulge and add more classic French flavors like melted camembert, let your brioche rolls take your barbecue to the rooftops of Paris.
Try it as well in a sweet recipe for a "magnifique" dessert.
View product
Where to buy