Halloween Recipes
Make your next Halloween party spooktacular with St Pierre's magnifique recipe collection! Halloween food ideas need to be the perfect combination of fun, seasonal and delicious. We've put together some of our favorite spooky season Halloween recipes using our products to inspire your party spread.
Whether you're hosting a Halloween party, spending the night in, or fueling up ahead of Trick or Treating, you'll need some scarily good recipes.
The best Halloween recipes and ideas
Candied Sweet Potato Burgers
Combining classic fall flavors and gooey marshmallows, our Candied Sweet Potato Burgers are perfect for warming Halloween meals. Looking for vegetarian Halloween recipes? Look no further!
Using our Brioche Burger Buns as a soft and lightly sweet base, build up a beautifully seasonal filling of maple candied sweet potatoes and Halloween candy-friendly marshmallows.
Slow Roast Pork and Apple Sauce Baps
Also using our delicious Brioche Burger Buns, these Slow Roast Pork and Apple Sauce Baps are the ultimate fall meal. Ideal for whipping up after Trick or Treating, or eating during a scary movie marathon, this recipe is sure to be a crowd pleaser.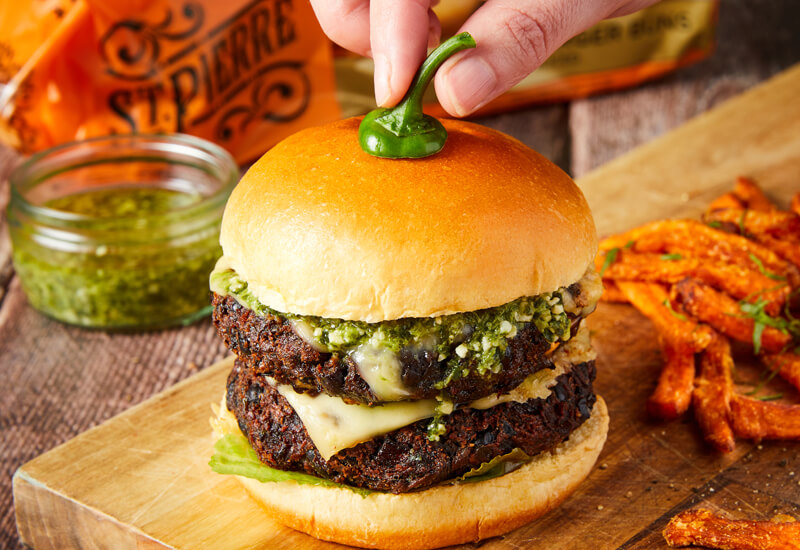 Halloween Black Bean Burgers
Sometimes it's not enough for food to taste delicious – it needs to look the part too. And what better time of year to dress up your food than Halloween?!
Our vegetarian Black Bean Burger recipe is complete with a chili top that makes our Brioche Burger Buns look like a little pumpkin!
Blood Orange French Toast
What could be more apt for spooky season than Blood Orange French Toast?! A great way to start the big day, this is an easy to make Halloween breakfast idea.
Pick up a St Pierre sliced Brioche Loaf and a pack of blood oranges (clementines or satsumas also work for this too) and make a breakfast or brunch so delicious it's almost scary.
Sticky Toffee Apple Pudding
Combining the classic flavors of fall, our Sticky Toffee Apple Pudding is a sweet treat perfect for rounding off Halloween.
When you're sick of Halloween candy, try using the sweetness of dates and a little toffee to create the wonderful flavors of this showstopping dessert.
Browse all our other recipes for more inspiration to cook and bake all year round. Take a look at the full St Pierre range of products to start making every meal magnifique.