Inspiration
Take your Galentine's Day to Paris with St Pierre
Ideas for you and your friends to celebrate Galentine's Day.
A sweet and easy brunch recipe for your Galentine's Day Zoom call, an afternoon dessert worthy of getting dressed up for, and a spectacular dinner burger for your evening cookalong with your best friends.
We know that our best friends are our forever soulmates, and that's what Galentine's Day is all about! This year, our girls may be far away, but that doesn't mean we can't enjoy this day together, with some delicious St Pierre recipes and fun virtual hang–out ideas. Starting with a sweet breakfast, followed by a delicious and easy afternoon treat to an indulgent dinner to make together.
Galentine's Day 

Banana & Nutella Brioche Toastie
Start your Galentine's Day on a sweet note with our recipe for Banana & Nutella Brioche Toasties. We know that banana and Nutella go together like you and your bestie. Just spread some Nutella on our Brioche Loaf, add some banana slices, and fry it up in a pan with some butter.  
Try this sweet recipe and ring your besties up for a virtual brunch where you can plan a dream trip to Paris, or try one of the many virtual tours that the city of Paris has to offer.
Find out where to buy our Brioche Loaf on our Where To Buy page.
Brioche Swirl Cupcakes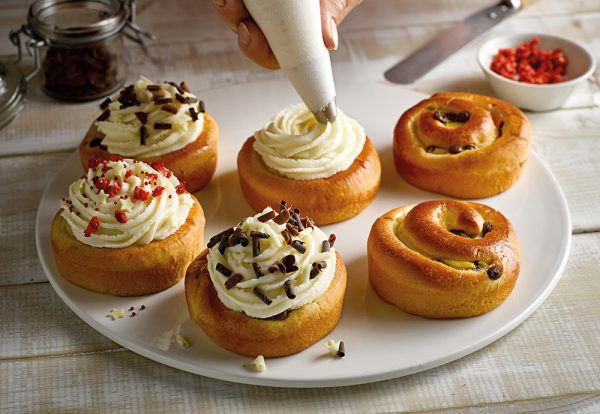 A Parisian take on a classic cupcake, these Brioche Swirl Cupcakes are made with our St Pierre Brioche Swirls, can be topped with your favorite topping, and are a breeze to make. They pair beautifully with some bubbly, too!  
Have some fun and get dressed up for your Zoom call, and enjoy a chat with a sweet treat in hand. 
Find out where to buy our Brioche Swirls on our Where To Buy page. 
Beetroot Brioche Burger
Our Parisian take on a veggie burger! Get your girls together for a Zoom cookalong and make these delicious Beetroot Brioche Burgers with our lightly sweet and soft Brioche Burger Buns, sweet potatoes, guacamole and fresh parsley.  
Enjoy with copious amounts of chit chat and a nice bottle of red.
Find out where to buy our Brioche Burger Buns on our Where To Buy page.
If you try any of our recipes make sure to tag us on Instagram and Facebook, and stay tuned on our socials for more recipe inspiration.