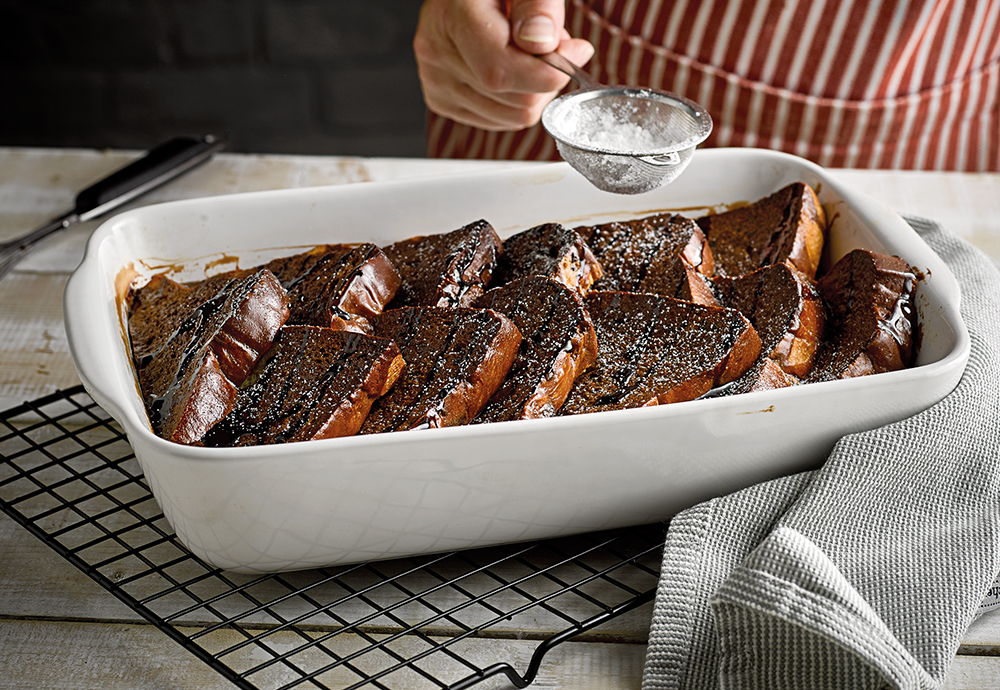 Recipe
Chocolate Chip Bread and Butter Pudding
Chocolate Chip Bread and Butter Pudding
Create our Chocolate Chip Bread and Butter Pudding – a warm and hearty dessert to complete the family dinner.
Ingredients
8 slices of St Pierre Chocolate Chip Brioche Loaf
1¾ cup of double cream
5.3 oz semi-sweet chocolate
3.5 oz cup superfine sugar
3 oz butter
3 large eggs
Confectioner's sugar
Method
Butter the sides and bottom of an oven-proof dish
Cut the slices of brioche into small triangular pieces, and place in the dish
Place a large mixing bowl on top of a pan of simmering water
Melt the chocolate, butter, sugar and cream in the bowl and stir gently
Beat the 3 large eggs together in a separate bowl
Mix the beaten eggs with the chocolate mixture, and pour over the brioche
Place the ovenproof dish into the fridge to chill – leave overnight if possible
Pre-heat the oven to 300°F and bake for 25-30 minutes
Remove from the oven and dust with confectioner's sugar
Serve warm with a scoop of vanilla ice cream
Chocolate Chip Brioche Loaf
Our delicious brioche sliced bread, with added chocolate chips for a more indulgent treat. Its sweet soft texture and taste make it a child's favorite.
View product
Where to buy