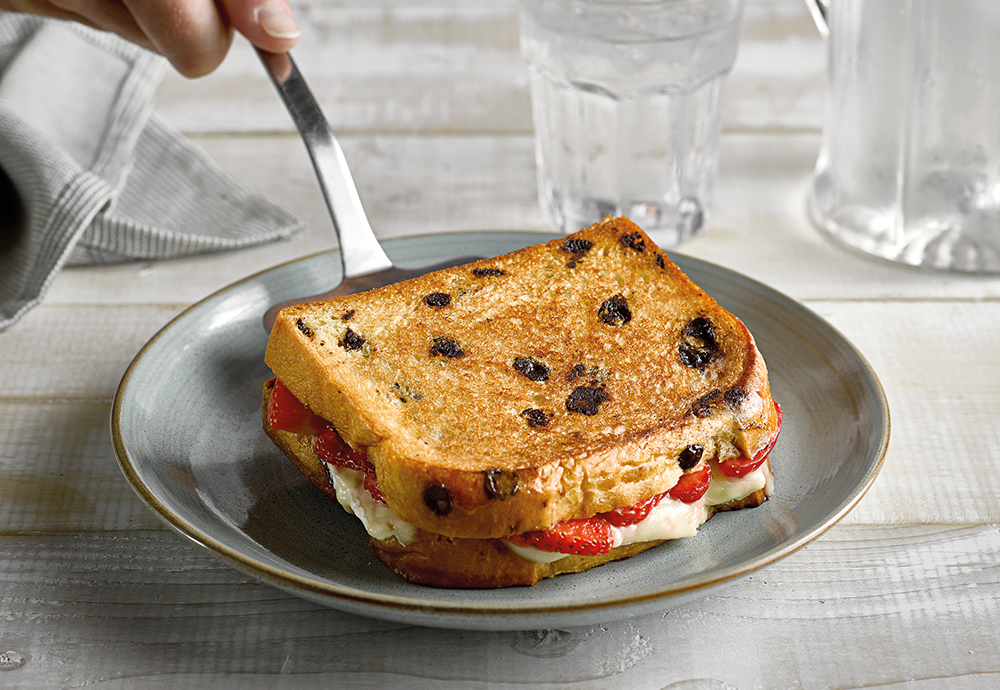 Recipe
Strawberry & Brie Bites Brioche Toastie
Strawberry & Brie Bites Brioche Toastie
Sweet and tasty mini treats – ideal for canapes
Ideal for canapés or a sweet snack, this recipe for Strawberry and Brie Bites is elevated with our St Pierre Chocolate Chip Brioche Loaf.
The mixture of flavors between the sweetness of the strawberry, the delicacy of the chocolate and the strength of the cheese will surprise your taste buds with pleasure.
Ingredients
8 slices St Pierre Brioche Loaf with Chocolate Chips
7 oz mild brie cheese
8 oz fresh strawberries
2 oz butter for frying
Powdered sugar for dusting
Method
Slice the strawberries and the brie into thin slices
Place the brie and strawberries on top of one slice of chocolate chip brioche loaf
Add a second slice of brioche loaf on top to make a sandwich, and place to the side
Melt the butter in a frying pan
Gently place the sandwich into the pan, frying one side
Carefully flip the sandwich, and fry the other side
Remove from the pan and cut into small triangles
Lightly dust the triangular bites with powdered sugar for the finishing touch
Bon appétit!
Chocolate Chip Brioche Loaf
The magical combination of our delicious brioche sliced bread, plus added smooth chocolate chips for an even more indulgent treat. This brioche loaf's soft texture and delicious sweet taste make it the perfect treat for anytime of the day and take your favorite French toast recipe to the bakeries of Paris.
Enjoy it as is for a sweet snack or an indulgent breakfast.
View product
Where to buy